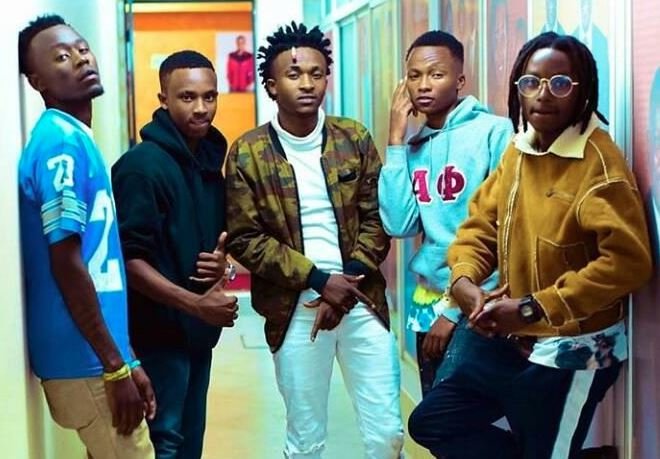 When popular radio presenter Mwalimu Rachael  published the song on her YouTube channel back in April, I must admit that I was among the first critics to discredit the group as simply a passing fad that would fizzle as first as they vixens wiggle their booties in the Wamlambez music video.
But I'll have to swallow my words and accept that just like any other sector, change is inevitable in Kenya's music industry and Sailors are here to stay!
Wamlambez is arguably their biggest song having managed over four million views on YouTube.
Sunday Nation spoke with the group made up of Miracle Baby, Shalkido, Masilver, Lexxy Yung, and Qoqosjuma. about the creative process, breakthrough, and legacy of Sailors.
The Wamlambez Wamnyoyez phrase has become a worldwide hit. Any plans of trademarking it?
Miracle Baby: Absolutely
How do you guys feel about the Wamlambez Challenge trend, with famous people around the world now taking it up?
Lexxy Yung: We are definitely so excited because we just did not imagine it would blow up just like that.
Any plans of making a remix?
Lexxy Yung: Well, at first we were all in agreement not to do one. But if a very good opportunity and artistes come our way, we are ready to try.
If so, who do you plan on bringing along for the ride?
Qoqos Juma: We are still looking and planning on that.
When and how did the group begin?
Shalkido:  Miracle Baby, Lexxy Yung and Qoqos Juma grew up together and went to the same school.  I. on the other hand started going for comedy auditions while I was in form two. That's where I met Qoqos and Miracle Baby. At that time, Lexxy Yung, Miracle Baby and Qoqos Juma had already started doing music and performing around the hood.  Our friendship started and they advised me to finish school first. Being passionate about music, I also started rapping while in high school. But I still followed their advice and decided to join the crew right after I had finished high school.
How did the name Sailors come about?
Shalkido: We came together because of our common goal to do music, so we decided to call ourselves Sailors because we are sailing together in this musical voyage
What would you say has influenced your music?
Lexxy Yung: We listen and appreciate everyone in the music industry. They have inspired us in all manner of ways and that's why our music is different.
What's your take on the term Genge-tone that's being used to describe your music?
Miracle Baby:  Our style is not Genge-tone. We call ours dabonge style because it's mostly about one person saying something and the rest responding.
Pekejeng and Queen B also became hits in just a few days. What do you attribute the success of your music to?
Shalkido: I could say the relatability with our fans. We basically sing about what is happening in the ghetto. We are the mirror of our society and where we come from. We also have a very supportive team, under management of Mwalimu Rachel and her youth movement called MRX Media Ltd.