On Monday 12th, members of the public, students and invited guests attended lectures on the late nationalist Masinde Muliro, a pioneer independence and liberation hero.
In a move that has been termed as long-delayed tribute, distinguished scholars converged at the Masinde Mulito University of Science and Technology (MMUST) to speak about the life and times of a man the institution is named after.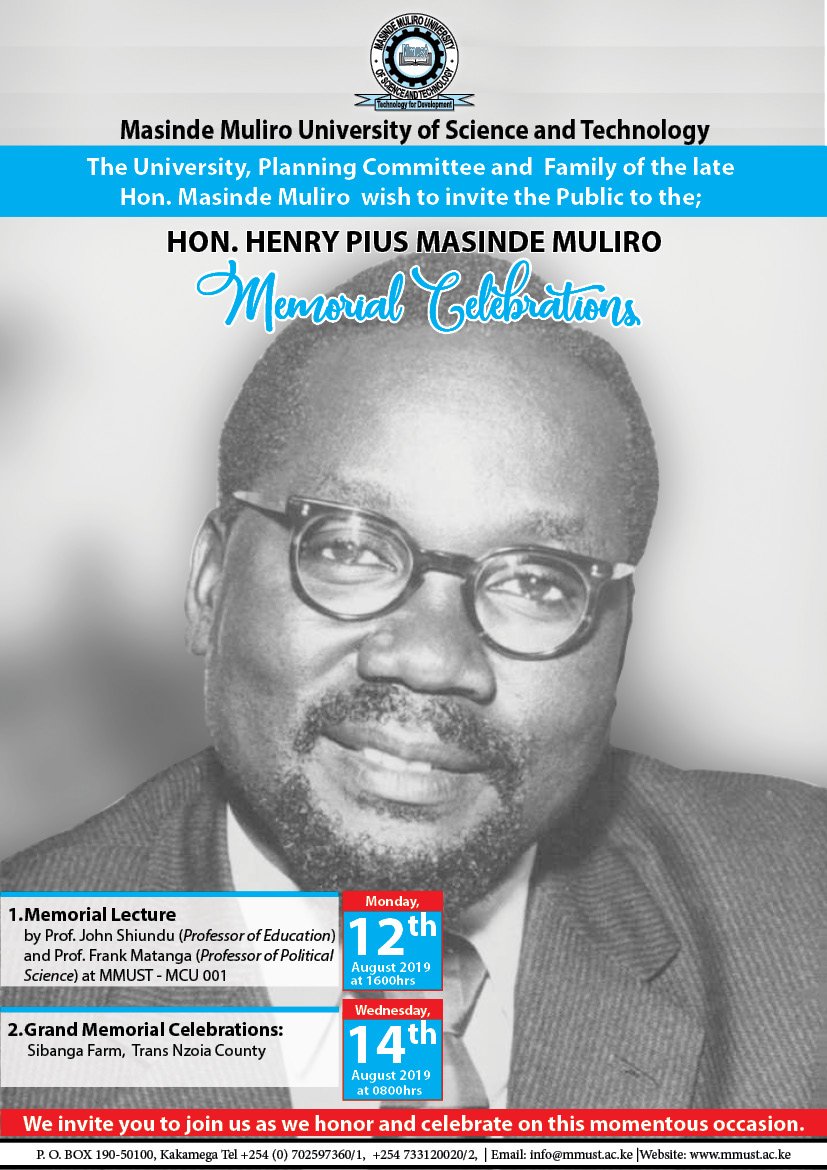 Born on June 30, 1992, Muliro carved out a a unique position for himself in Kenya's political landscape. He spent his life fighting for a just cause – an equitable, enlightened and free Kenya.
In 1958, Muliro together with Oginga Odinga and six other colleagues elected to the LegCo a year earlier traveled to London to agitate for the release of Jomo Kenyatta and five others. Muliro co-launched "Operation Freedom" in pursuit for freedom of assembly and national political parties.
"He was a strict no nonsense disciplinarian who despised handout politics, never gave or received bribes but believed in equality and equity……" Biketi Kikechi begins writing of a man once regarded as a non-conformist by the government in a Sunday Standard feature story published on August 11, 2019.  "He lost his ministerial job fighting for justice and repeatedly faced political injustice while fighting for civil liberties……"
In 1974, Muliro won the Kitale East parliamentary  seat and was appointed Minister for Works. But in 1975, and true to his character, he was the only minister to vote against the government over a report into the murder of a famous politician JM Kariuki. His vote swung the balance and the government lost the motion and for his pains, he was dismissed from cabinet.
Muliro collapsed and died at the Jomo Kenyatta International Airport (JKIA) on August, 14 1992. After his death, the Independent of London  wrote an obituary on August 29, detailing how he had emerged as the man who could have saved